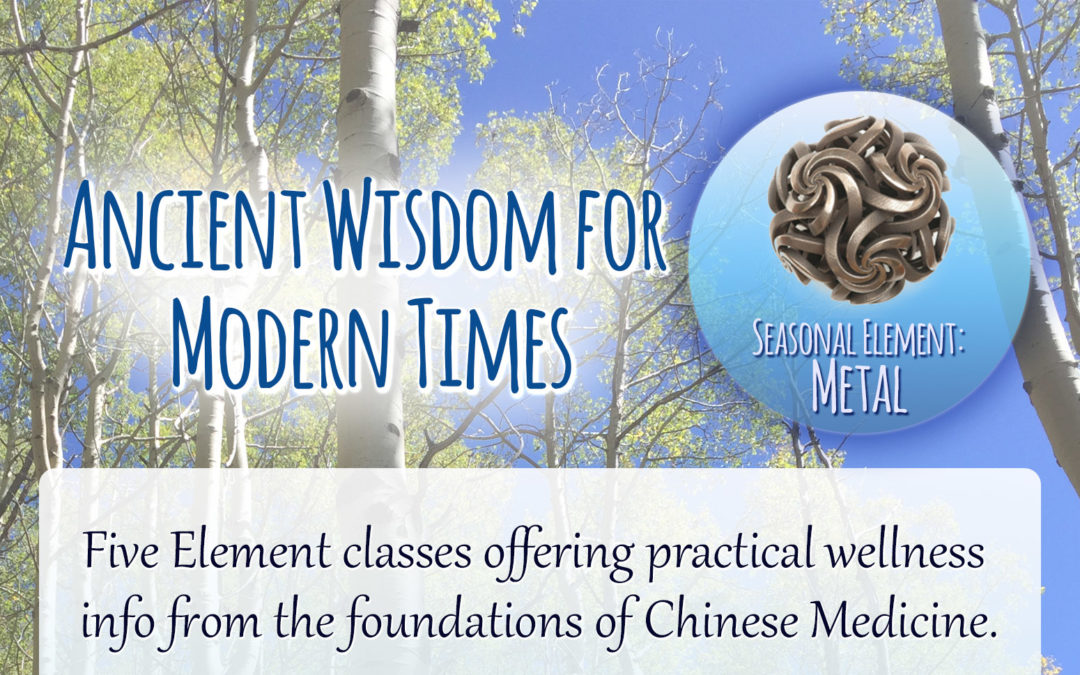 This season's classes will cover the METAL Element.  It corresponds to the Lungs: governs Rhythmic Order, Letting in and Letting Out, the Large Intestine: governs Transformation and Change, Autumn, the 'Qi" – or energy of the body,  Capacity to Organize, Inspiration… to name a few of the aspects we will discuss.
Symptoms of METAL imbalance include: Allergies, Bronchitis, Dry Skin, Weak Immunity, Fatigue, Edema, Pain in shoulders and upper back, OCD, Self-Critique, Rigidity, Perfectionism and the Inability to Let Go.
These classes will help you understand more about these physical, mental and emotional imbalances and how they are related to each of the 5 Elements, as well as an Element's spiritual virtue and their "personality".
Blair intends to share practical support to help you integrate these insights with seasonally appropriate herbs, foods, essential oils and life skills.  She will help you to learn to identify when an element is in balance, excessive, deficient or dysfunctional.
Please note Blair will not be diagnosing anyone, as a thorough intake is required, but will be able to offer suggestions when medically appropriate.
Hourly classes begin this month: the first Thursday 11/3 at 10:30 am and the second Wednesday, 11/9 at 5:30 pm.   Donations appreciated.  Bring writing materials if wish to take notes.